Discover our products!
Every year, the Dutch drink about 12 billion cups of coffee.*. Veel van dat koffiedik belandt nog vaak bij het restafval. En dat vinden wij zonde! Dat koffiedik kunnen we gebruiken als waardevolle materiaal bij de productie van onze biobased producten.
Notebook Cafea Silverskin Spiral Softcover
Not only coffee grounds are a waste stream of the coffee industry, but also the silverskin. The silverskin separates from the coffee bean during the roasting process. To prevent this valuable material from going to waste, Coffee Based recycles them into coffee sheets in the color silver that can be used to make notebook covers.
Notebook Arabica Black Spiral Soft and Hardcover
Do your best ideas and inspirations also often come during a cup of coffee?  With this notebook, which even smells like coffee, your ideas will come naturally.
Now also available with a spiral binder. In addition to the Notebook Spiral Softcover, we also have a deluxe version with a hard cover and elastic. Totally chic with our personalisation options.
Notebook Arabica Black
A good idea can all start with a good cup of coffee. In this case we take this quite literally. The coffee grounds that remain after brewing your cup of coffee have been used to make this notebook. A strong basis for a book full of great ideas. So pick up this book, find a pen, take another sip and get to work, because "It can all happen over one cup of coffee…"
Notepad Arabica Black Gift Set
Our newest product. This is the robust sister of our regular Coffee Based notebook. A ring binder with 340 pages (170 sheets) made of 100% recycled paper. Ideal for notes, To-Do Lists or sketches. The ring binder allows you to open it completely and the smart layout of the cover and front page allows you to use it both vertically and horizontally.
Business Cards
Leave a unique first impression at your appointment with a business card made from coffee grounds. A moment of realization to be savoured, when the recipient discovers that the business card smells like coffee. The feeling of warmth and cosiness captured in a business card. It's an introduction that is unique and will leave a lasting impression.
Coffee panels 
Coffee Based koffieplaten zijn geschikt om in te zetten als laminaat voor een stijlvolle, biobased afwerking van koffieplaat. Zo ontstaat een paneel waarmee je alle kanten op kan. Van koffiemeubel tot bar, met dit koffiepaneel maak je de koffiehoek helemaal af!
The panels are available in different thicknesses, easy to use in all kinds of products and projects. The material can be provided with an engraving or print for a personal touch.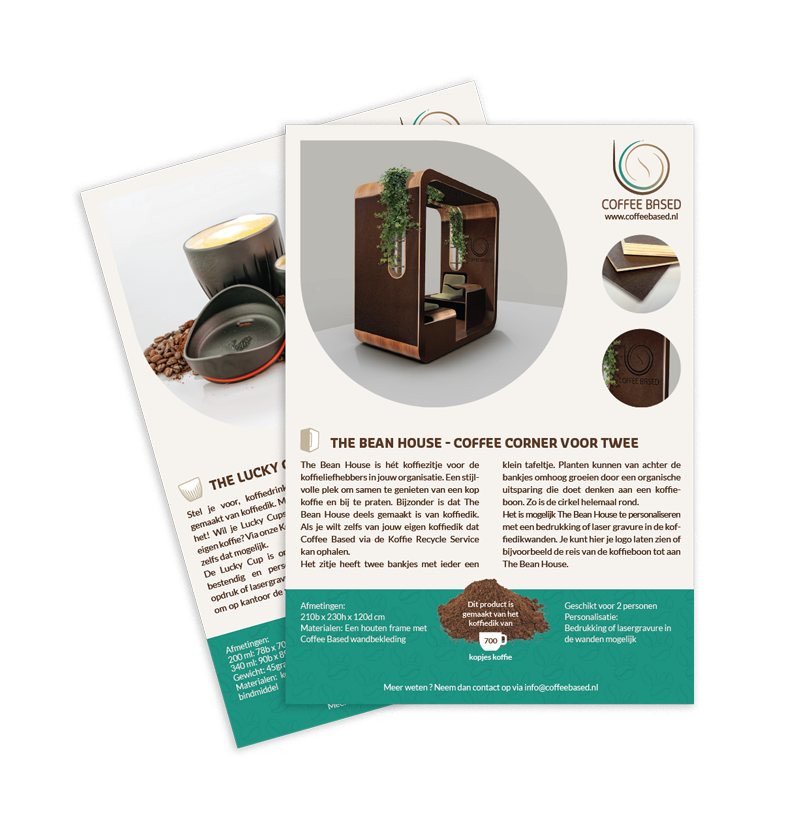 Discover and know more information about Coffee Based products?
Get in touch and we will send you our brochures.
Are you looking for something customized?
Of course we can make that for you!