The Coffee Based plant pot, made of coffee grounds, has a unique look. You can recognize by the smell andaroma that coffee grounds have been processed in the material. The pots are suitable for indoor use.
The plant pot can be personalized with a print, in larger quantities.
* Note: The plant pot is delivered without plant and print.
Log in to see prices
Log in to add the product to your shopping cart
Don't have an account yet? Make one here.
Yes! Contact our partner VerdraaidGoedProduct.nl for small orders and single pieces.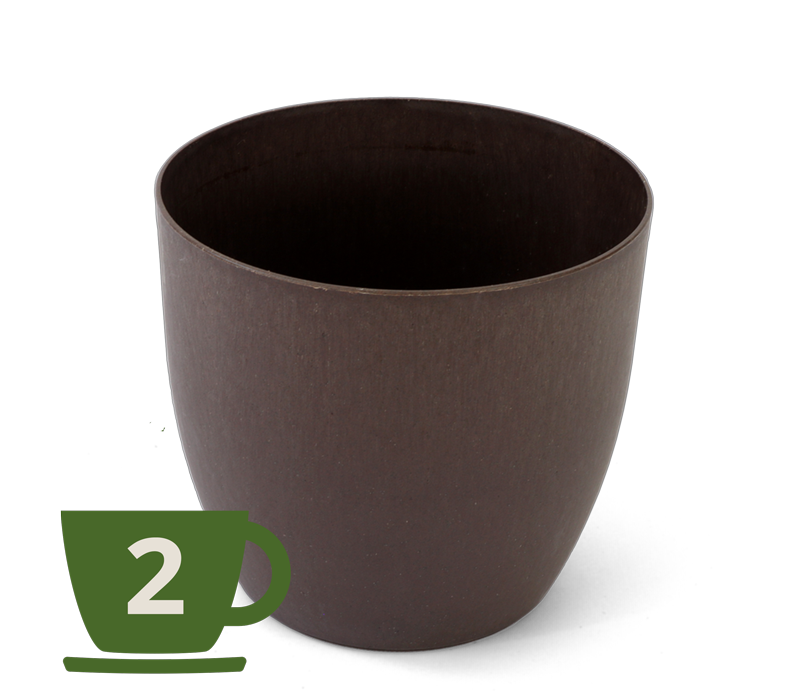 Made from the coffee grounds of two cups of coffee!
Plant pot dimensions: Ø130×120 mm
Extra information:
The plant pot does not include coffee plant and doe not include print.
For indoor use
Because the material is biodegradable, you will see that the inside of the pot has a white coating.
The expected life of the plant pot is two years.
Break the chain, close the loop
In the Netherlands, more than 100 million kilos of coffee waste is produced every year. Coffee Based sees this as a valuable raw material. We are working on solutions to convert this coffee waste into new products, such as the bio-plastics in this plant pot or valuable biochemicals. In this way, Coffee Based makes coffee waste more valuable than a cup of coffee and turns the coffee chain on its head!
The Coffee Based plant pot shows that there is much more to do with coffee grounds than throwing it away and burning it. By buying or giving a Coffee Based Plant Pot as a gift, you help spread this message and we can collect and convert more coffee grounds. This is how we make the coffee chain circular together!
Promotional gifts & personalization
The plant pot is the ultimate gift, suitable for use as promotional material or promotional gift. The plant pot can be personalized in large quantities, with a print or logo on the pot. A print with a size of up to 40×30 mm can be placed on the pot. Create the ideal promotional gift for your organization. Contact us for the possibilities.

Your logo on a Coffee Based product
If this product is ordered in large quantities, it can be personalized with a logo to create a well-suited promotional gift for your (business) partners.