A limited edition of our Coffee Based notebook with an engraving on the front that shows the story from coffee bean to booklet.
With a cover made from the coffee waste of 1 cup of coffee this book is ideal for taking notes during important conversations, brilliant ideas and fascinating presentations. The paper in the notebook is 100% recycled.
It can all happen over one cup of coffee!
Log in to see bulk discount prices.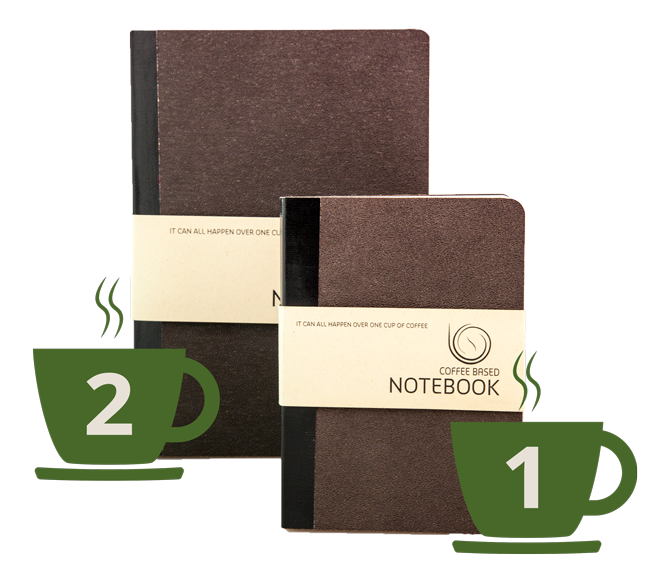 Made with the coffee grounds of one to two cups of coffee!
Break the chain, close the loop
In the Netherlands, 100 million kilos of coffee waste is produced every year.*Coffee Based sees this as a valuable raw material. We work hard on solutions to convert this coffee waste into new products, such as this notebook. In doing this, Coffee Based makes coffee waste more valuable, beyond a cup of coffee and turns the coffee chain on it's head! The Coffee Based notebook shows that there is much that can be done with coffee grounds than throwing it away and incinerating it. By purcahsing or gifting a Coffee Based Notebook, you help spread this message and we can collect and convert more coffee grounds. This is how we make the coffee chain circular, together!
The paper in the notebook is 100% recycled and we save 100% wood, 83% water, 72% energy and 53% CO2 compared to virgin paper.
This notebook can also be personalized in large quantities. Then you can design the cover page, the color of the reading ribbon or the elastic. Create the ideal promotional gift for your organization. Contact info@coffeebased.nl for the possibilities.

Your logo on a Coffee Based product
If this product is ordered in large quantities, it can be personalized with a logo to create a well-suited promotional gift for your (business) partners.