€ 14,50 – € 14,96 incl. VAT
Stel je voor, koffiedrinken uit een kopje gemaakt met koffiedik. Met de Lucky Cup kan het!
The Lucky Cup is available in two different sizes:
The Lucky Cup Medium 200 ml;
The Lucky Cup Large 340 ml
A travel lid is also available for the Lucky Cup Large
Finished with subtle Lucky Cup logo
Dishwasher safe
Does not contain melamines, formaldehydes or BPAs
Your logo on Lucky Cups? It's possible!
Log in to see bulk discount prices.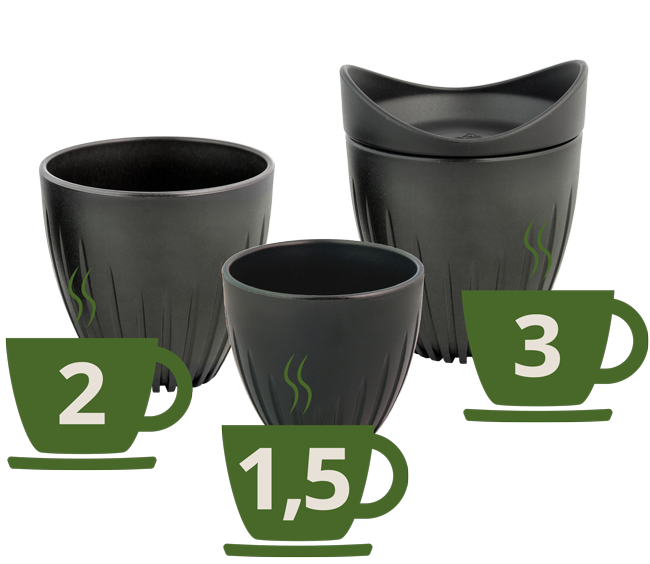 Made with coffee grounds from one to three cups of coffee!
This reusable biobased coffee cup was designed by acclaimed Dutch designers and is the winner of several awards, including the Horecava Innovation Award.
The Lucky Cup is not only stylish, the design also has many practical aspects. Thanks to the rib indentations, the cup does not get too hot and hs a comfortable grip in the hand. The round edge makes it easy to drink from and the round bottom is conducive to the aroma of the coffee. The cup is dishwasher safe and the bottom is designed in such a way that no water remains on it after a wash. Moreover, the cup is durable and unbreakable. Very suitable for the great outdoors, for travel and on vacation.
Break the chain, close the loop
In the Netherlands, 100 million kilos of coffee waste is produced every year.*. Coffee Based ziet hierin een waardevol materiaal en gebruikt het in nieuwe producten, zoals dit kopje. Zo maakt Coffee Based koffiedik weer waardevol en wordt voorkomen dat het wordt weggegooid en verbrand. Door een Coffee Based kopje te kopen of cadeau te doen help je deze boodschap te verspreiden en kunnen wij weer meer koffiedik inzamelen en omzetten. Zo maken we samen de koffie-keten circulair! Dit kopje kan in grote oplages ook gepersonaliseerd worden. Creëer zo het ideale relatiegeschenk voor jouw organisatie. Neem contact op via info@coffeebased.nl voor de mogelijkheden.
| | |
| --- | --- |
| Size | M, L, M set van 2 in box, L set van 2 in box, L met deksel in box, L met deksel |
| Units | L: 24, L met deksel in doos: 12, M: 24, M set 2 in doos: 18, L met deksel: 24 |
Details
The Lucky Cup is a coffee cup that is suitable for cold and hot drinks up to 100 degrees Celsius. The Lucky Cup may not be resistant to alcoholic liquids, acids and chlorine-containing agents.
The Lucky Cup is not suitable for use in the microwave and/or oven.
The Lucky Cup must be washed before first use. During the production process, a white haze may appear on the product, which will disappear during the first wash.
The Lucky Cup is 100% Bio-based. Made from plant-based materials. The bio-based binder comes from Europe and the coffee grounds from the Netherlands.
Sharp objects can scratch or damage The Lucky Cup.
Produced in the Netherlands and packed by people with a distance to the labour market.
Recyclable
Dishwasher safe (tested up to 1000 cycles in a professional dishwasher)

Your logo on a Coffee Based product
If this product is ordered in large quantities, it can be personalized with a logo to create a well-suited promotional gift for your (business) partners.