Log in to see prices
The Lucky Cup is available in two different sizes:
The Lucky Cup Medium 200 ml;
The Lucky Cup Large 340 ml
A travel lid is also available for the Lucky Cup Large
Finished with subtle Lucky Cup logo
Dishwasher safe
Bevat geen melamines / formaldehydes of BPA's
Your logo on Lucky Cups? It's possible!
Bulk sales - for business accounts
Log in to add the product to your shopping cart
Don't have an account yet? Make one here.
Yes! Contact our partner VerdraaidGoedProduct.nl for small orders and single pieces.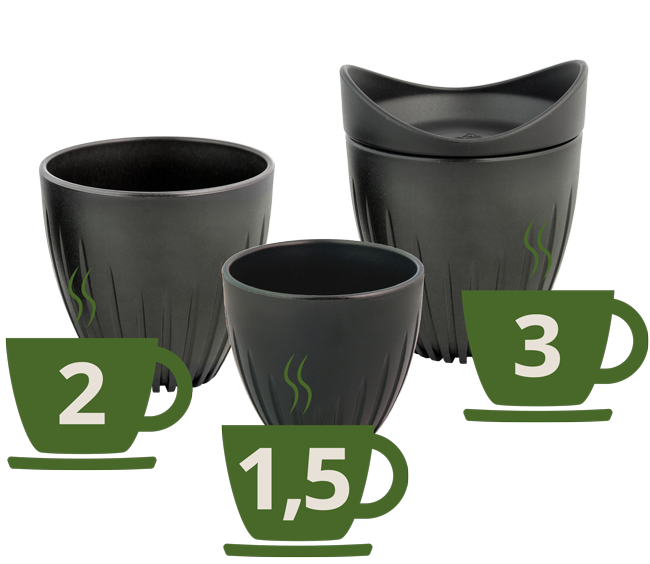 Gemaakt met het koffiedik van een tot drie kopjes koffie!
Break the chain, close the loop
In the Netherlands, 100 million kilos of coffee waste is produced every year. Coffee Based sees this as a valuable raw material. We work hard on solutions to convert this coffee waste into new products, such as this notebook. In doing this, Coffee Based makes coffee waste more valuable, beyond a cup of coffee and turns the coffee chain on it's head! The Coffee Based Lucky Cup shows that there is much that can be done with coffee grounds than throwing it away and incinerating it. By purcahsing or gifting a Coffee Based Lucky Cup, you help spread this message and we can collect and convert more coffee grounds. This is how we make the coffee chain circular, together!
This coffee cup can also be personalized in large quantities. Create the ideal promotional gift for your organization. Contact info@coffeebased.nl for the possibilities.
| | |
| --- | --- |
| Maat | M, L, L met deksel, M set van 2 in box, L set van 2 in box, L met deksel in box |
| Units | 12, 18, 24 |
Details
The Lucky Cup is een koffiekopje dat geschikt voor koude en warme dranken tot 100 graden Celsius. The Lucky Cup is mogelijk niet bestand tegen alcoholische vloeistoffen, zuren en chloorhoudende middelen.
The Lucky Cup is niet geschikt voor gebruik in de magnetron en/of oven.
The Lucky Cup moet voor het eerste gebruik worden gewassen. Tijdens het productieproces ontstaat er mogelijk een witte waas op het product, die er bij de eerste keer wassen weer vanaf gaat.
The Lucky Cup is 100% Bio-based. Made from plant-based materials. The bio-based binder comes from Europe and the coffee grounds from the Netherlands.
Scherpe voorwerpen kunnen krassen of beschadigingen veroorzaken op The Lucky Cup.
Produced in the Netherlands and packed by people with a distance to the labour market.
Recyclebaar.
Geschikt voor de vaatwasser (getest tot 1000 cycli in een professionele vaatwasser).

Your logo on a Coffee Based product
If this product is ordered in large quantities, it can be personalized with a logo to create a well-suited promotional gift for your (business) partners.